SEA CONNECTIONS IN FORCE FROM 23 JUNE
| Departures | Time | Days |
| --- | --- | --- |
| Salerno > Vulcano | 14:00 | Wednesday and Friday |
| Vulcano > Salerno | 9:20 | Monday and Thursday |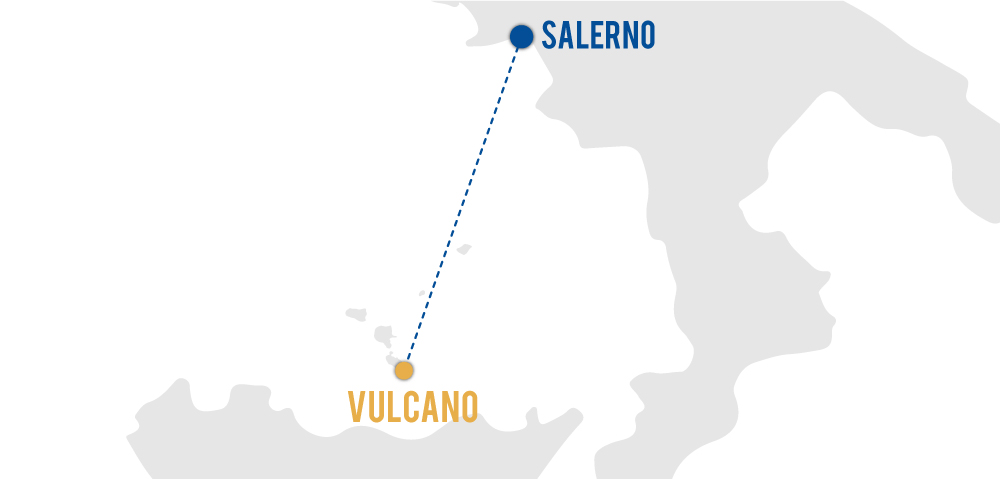 With Alicost you have fast hydrofoils from Salerno to Vulcano with daily connections between the two locations.
THE DEPARTURE AND ARRIVAL PORTS OF THE SALERNO – VULCANO ROUTE
The Alicost Salerno-Volcano hydrofoil offers allow you to travel in peace to the beautiful Aeolian islands.
In Salerno, departure is scheduled at Molo Manfredi, awarded in 2010 as a port with freight and passenger transport services. On Vulcano, on the other hand, the hydrofoil docks to the Porto di Levante where there are high-temperature volcanic mud, destination of tens of thousands of tourists every year.
Vulcano is an island of unique charm. Beaches with dark sand and crystal clear sea make it a place to visit at least once in a lifetime. Not to be missed, in fact, are the Fossa Crater and the Asino Beach, which will give the impression of being in the Caribbean.
In Salerno, instead, stands the medieval castle called Arechi, from the name of the Duke who started its construction. The Duomo is also a destination of pilgrimage, in the historic center, built in Romanesque style with a bell tower on which there are 8 bells.
FAST MOVEMENTS BETWEEN SALERNO AND VULCANO WITH THE HYDROFOILS FROM ALICOST
Reaching the two destinations with a hydrofoil from Salerno to Vulcano allows you to optimize the time of transport by sea enjoying a series of modern and efficient services.
Each passenger, for example, can connect to the on-board wi-fi network or watch the favorite program on our maxi screens. On board you can also use the bar service to order a coffee or have a snack.
Furthermore, all hydrofoils are designed to allow easy access for people with reduced mobility. The aim of Alicost is to offer comfortable connections by sea allowing passengers to arrive at their destination relaxed.
BUY THE TICKET ONLINE FOR THE ROUTE SALERNO – VULCANO
One of the strengths of the hydrofoil journey from Salerno to Vulcano, and vice versa, is the simplicity of the booking procedure that can be carried out entirely online.
Payment can be made through our online booking. With just a few clicks you can buy the travel ticket to show to the crew.
Alicost offers facilities for young people: for children up to 3 years, transport by sea is free, while for children between the ages of 3 and 12 a reduced price is provided.
Finally, hydrofoils can also accommodate animals. When booking, it is necessary to indicate the number of pets that will be accommodated on board. In this way, it will also be possible to share your journey with your four-legged friends.
Book your trip with Alicost before the seats are gone!