SEA CONNECTIONS IN FORCE FROM 23 JUNE
| Departures | Time | Days |
| --- | --- | --- |
| Salerno > Stromboli | 14:00 | Wednesday and Friday |
| Stromboli> Salerno | 10:55 | Monday and Thursday |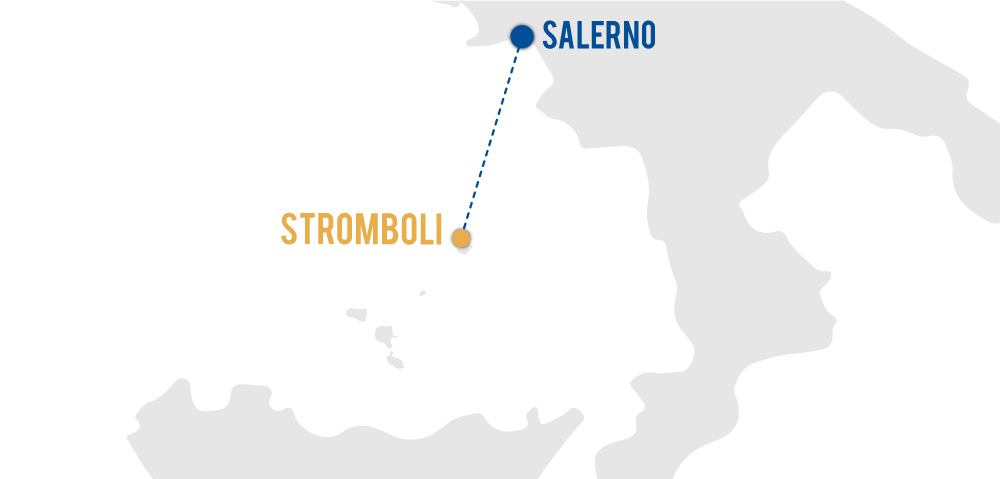 Within the Alicost sea transport network, we have activated the hydrofoil ferry which will take you from Salerno to Stromboli. From the Manfredi Pier in the second most important city of the region of Campania you will be arriving at the port of the volcanic island.
THE PORTS OF THE ROUTE SALERNO – STROMBOLI
Round-trip sea connections between Salerno and Stromboli allow you to visit two wonderful places. The island of Stromboli is characterized by the homonymous volcano, the fulcrum of all tourist activities, and it is part of the Aeolian archipelago, in the province of Messina.
In addition to the volcano, it is certainly worth visiting the square Saint Vincenzo, the central point of the territory with a particular characteristic: it is one of the few squares of Italy that directly overlooks the sea and, therefore, from there it is possible to see the infinity of the Mediterranean Sea.
It is also worth mentioning the nineteenth-century Church of Bartolomeo, which boasts a great hositorical value and which, over the years, has been restructured several times and made even more impressive. Impressive is also the Cathedral of Salerno, today "Basilica Minore", built and consecrated in the XI century: located in the historic center, a few hundred meters away from the Garden of Minerva.
According to some research, as early as the Middle Ages it was used as a didactic botanical garden for students. Arechi's castel is also medieval, on the heights of the city: it is here that the poet Ugo Foscolo set one of his most famous tragedies, the Ricciarda, published in 1813.
FAST MARITIME LINKS WITH ALICOST
In addition to connecting two extraordinary cities, maritime and rich in history, Alicost's fast hydrofoils allow you to travel with extreme comfort. The seats and armchairs are comfortable and, inside the boat, we have provided maxi-screens for entertainment during the whole trip.
Furthermore, there is a bar service to order a drink, a simple coffee or a snack to take a stroll inside the hydrofoil and, finally, for those who need to be connected to the internet, there is a Wi-Fi connection.
Furthermore, on board our hydrofoils we also host people with reduced mobility who will receive assistance from our staff.
HYDROFOILS FROM SALERNO TO STROMBOLI: BUY THE TICKET ONLINE
To avoid long queues, especially during high season, you can book and purchase the ticket online on our website. Thanks to our online booking service it is possible to pay with all the credit cards of the major international circuits and all the purchase operations can be carried out in maximum security.
Even animals are allowed, just tell us during the purchase phase on our site. Children can get on board at special conditions: from 0 to 3 years they do not pay the ticket while from 3 to 12 they will pay the reduced rate.
Book now and come to see us on our fast hydrofoils!