SEA CONNECTIONS IN FORCE FROM 23 JUNE
| Departures | Time | Days |
| --- | --- | --- |
| Salerno > Salina | 14:00 | Wednesday and Friday |
| Salina > Salerno | 9:50 | Monday and Thursday |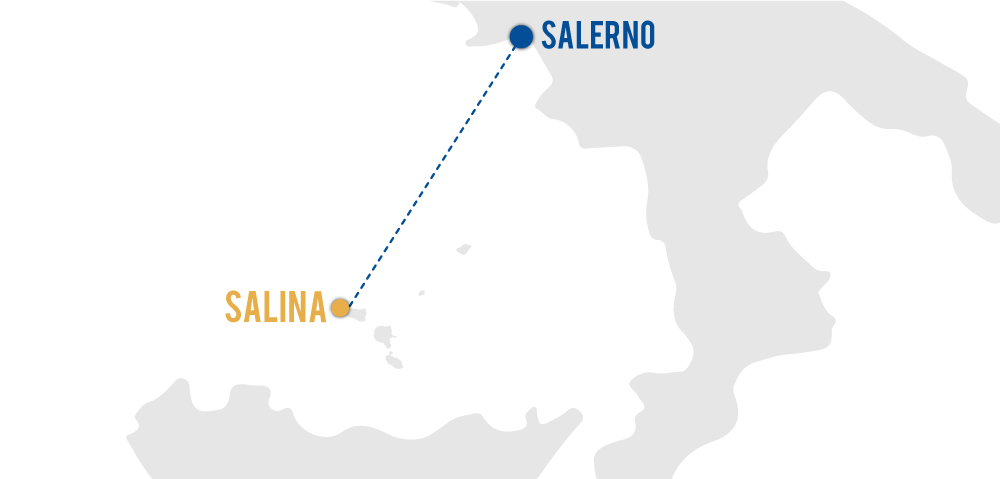 The hydrofoil from Salerno to Salina connects Campania in a few hours with the second largest island of the Aeolian archipelago, a true paradise on earth.
THE DEPARTURE AND ARRIVAL PORTS OF THE SALERNO – SALINA ROUTE
In Salerno, boarding is scheduled at Molo Manfredi, born as a commercial port but now a transit point for many tourists, while in Salina the berth is at S. Marina Salina.
Salina is known for its crystal clear and clean sea, so that for over 10 years it has been recognized as a "5 sails" by the Blue Guide of Legambiente. Traces of urban settlements dating back to the Stone Age have been found and today it is a true oasis, with a Nature Reserve that occupies more than half of the entire territory.
On the island it is also possible to visit the bay of Pollara, one of the sets of Massimo Troisi's last film, "Il Postino", and a castle, built during the First World War.
A castle is also present in Salerno, although more dated: it dates, in fact, to the sixth century After Christ and the name, Arechi, derives from the homonymous Longobard duke who settled in Salerno for a few years. The historic center is rich in monuments such as the Cathedral, officially designated as the Minor Church, and the Minerva Gardens, a botanical garden used for educational purposes since the Middle Ages.
SERVICES ON BOARD OF THE ALICOST HYDROFOILS
Alicost's fast hydrofoils coming from Salerno to Salina, and vice versa, have all the comforts to make the journey relaxing.
It goes from the bar corner, ideal for having a coffee or exchanging a few words with the other passengers, to the Wi-Fi always available for all guests who need to use the internet. There are entertainment screens throughout the duration of the trip.
We also reserve continuous assistance to people with reduced mobility, who can easily get on our hydrofoils.
ALISCAFI FROM SALERNO TO SALINA: ONLINE BOOKING
To take advantage of Alicost's transport by sea, it is also possible to book online and buy directly from our website through our online booking, accessible from the homepage of the site.
We offer the possibility of paying with the credit cards of the most important international circuits and it is possible to receive via e-mail the ticket valid for check-in for boarding purposes.
Animals can be accommodated on board our hydrofoils: the important thing is to report the presence of pets during the purchase phase.
Discounts are available for children aged 3 to 12, while children under 3 can travel for free.
Book now your ideal holiday with Alicost hydrofoils!