SEA CONNECTIONS IN FORCE FROM 23 JUNE
| Departures | Time | Days |
| --- | --- | --- |
| Salerno > Panarea | 14:00 | Wednesday and Friday |
| Panarea > Salerno | 10:10 | Monday and Thursday |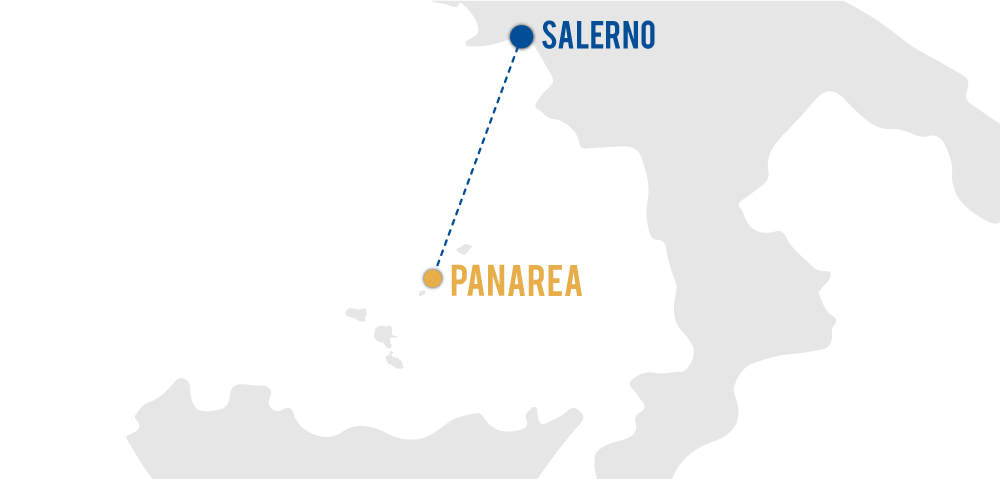 Alicost allows you to travel, thanks to its fast hydrofoils, from Salerno to Panarea, connecting in this way the region of Campania and Sicily by sea.
THE ROUTE SALERNO – PANAREA AND THE PORTS
In Salerno the port of departure is the Manfredi Pier while in Panarea the mooring is in San Pietro.
San Pietro is also the fulcrum of the social life of Panarea, the smallest of the islands that make up the Aeolian archipelago: besides, a few tens of meters away, there are wonderful thermal waters.
Among unmissable beaches for the view and the crystal clear water, in Panarea it is a must to visit the village of Punta Milazzese, dating back to the Bronze Age, between 3500 BC and 1200 BC.
In Salerno, instead, the Cathedral is impressive, consecrated in 1084 by Pope Gregory VII, located in the historic center of the city. Here, not to be missed is also the medieval aqueduct, 650 meters long and 21 meters high, according to the legends even built in a single day with the help of demons and, for this reason, it was renamed "Bridge of the Demons".
THE SERVICES ON BOARD OF EVERY HYDROFOIL OF ALICOST
During the fast hydrofoil journey from Salerno to Panarea it is possible to take advantage of various comforts and services that we provide for all guests.
On board, there is Wi-Fi, usable by anyone who might need it, a bar service, to take a stroll inside the boat or enjoy a good coffee as well as screens for those who want to sit comfortably and watch the programs in wave.
Our fast hydrofoils have also been designed for people with reduced mobility, who can easily get on and receive the necessary assistance from the staff.

BUY THE ONLINE TICKET FOR THE ROUTE SALERNO – PANAREA
Buying and booking online from the Alicost website is very simple. In order to avoid long waits, we have given the possibility of booking directly from our site.
It is possible to buy the ticket for Panarea directly from our online booking, using the credit cards of the major financial institutions.
With a few simple steps, entering all the travel information, the payment is made and a ticket will be sent by email to be shown for check-in and, subsequently, to be able to embark. On our hydrofoils we also accept pets: it is possible to report their presence directly during the purchase phase.
Finally, we have provided facilities for children: those falling within the age range from 0 to 3 years will be able to travel for free while from 3 to 12 years you can enjoy a strong discount.
You have no more excuses: book your ticket now to travel on our hydrofoils!