SEA CONNECTIONS IN FORCE FROM 23 JUNE
| Departures | Time | Days |
| --- | --- | --- |
| Salerno > Lipari | 14:00 | Wednesday and Friday |
| Lipari > Salerno | 9:00 | Monday and Thursday |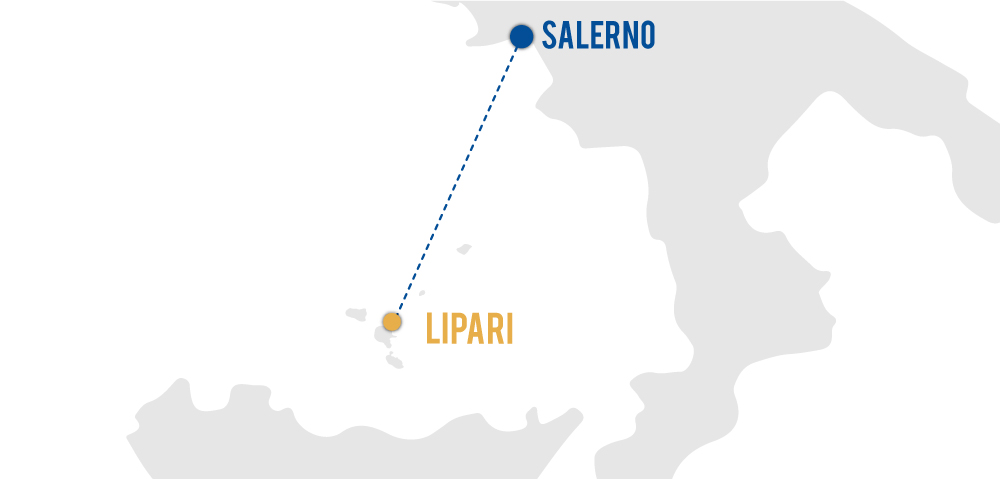 The hydrofoil from Salerno to Lipari connects the second largest city of Campania with the largest island of the Aeolian archipelago, in the province of Messina.
THE PORTS OF THE ROUTE SALERNO – LIPARI
In Salerno it is possible to embark at the Molo Manfredi while in Lipari you arrive at the port, less than a kilometer from the Norman Cloister, built by King Ruggiero II in the 12th century.
The Cloister, however, is not the only wonder you can admire in Lipari. Near the port, there are also two very famous bays: Marina Corta and Marina Lunga, a destination for tourists especially during the Easter period for the various processions taking place on the island during this period.
For lovers of the sea, a stop in Canneto, a fraction of Lipari, is a must, characterized by a beautiful promenade and crystal clear water. Even Salerno has an extraordinary waterfront, the main place of youth nightlife, as well as two important historical monuments. The first is the Castle of Arechi, a medieval fortification that overlooks the whole city built in 500 AD. The name takes its cue from the Lombard king Arechi II, who wanted its construction.
The second is the Duomo, whose exact name is the Metropolitan Cathedral of Santa Maria degli Angeli, San Matteo and San Gregorio VII. Obviously the main place of worship of the city, it is located in the historic center and it is easily accessible.
TRAVEL IN COMFORT WITH ALICOST: OUR ON-BOARD SERVICES
The sea transport of Alicost, in addition to including maritime connections between Salerno and Lipari, offers many services to make the journey pleasant for all passengers: every fast hydrofoil has a coffee shop, where you can order a drink or your own snack to put something under your teeth, a Wi-Fi connection intended for those who cannot really do without the internet and the screens with which you can have a preview of what you can visit on the island. Moreover, people with reduced mobility will have assistance at all stages of the journey.
HYDROFOILS FROM SALERNO TO LIPARI: BUY ONLINE AT THE BEST PRICE
Booking with Alicost is safe, simple and fast. To avoid long queues at the ticket office, you can buy your ticket to show online at our check-in site, without worrying that the seats available may end.
The purchase procedure takes place through our online booking system and for payment you can use one of the many payment methods we provide.
Children under the age of 3 can embark for free, indicating the number during the online purchase, while children between the ages of 3 and 12 can benefit from a reduced rate.
During the online purchase phase it is also possible to report the presence of pets that are our welcome guests.
Come and get to know two wonderful cities, ready to welcome you!