| Departures | Time | Price |
| --- | --- | --- |
| Positano > Ischia | 9:00 | € 25,40 |
| Ischia > Positano | 16:20 | € 25,40 |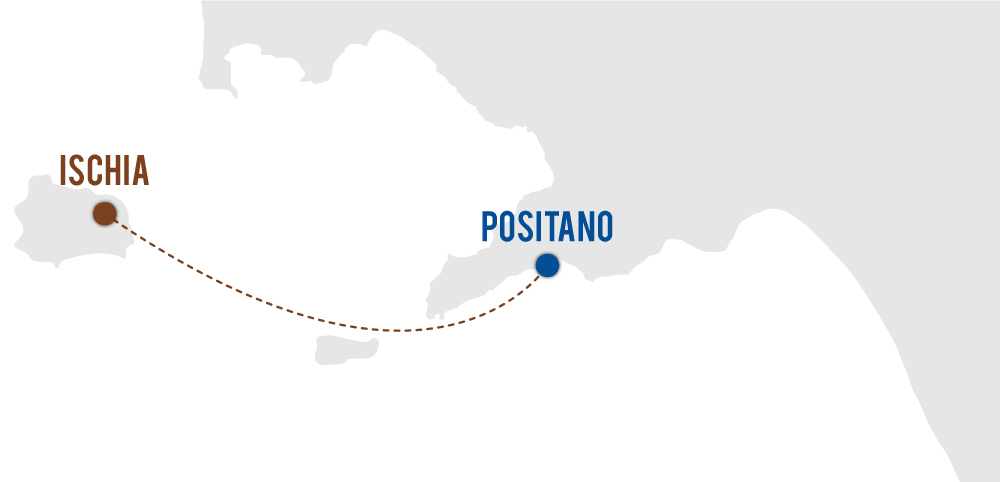 Alicost offers fast transfers on the route from Positano to Ischia. With our connections by sea, passengers can move from the port of one of the symbolic cities of the Amalfi Coast while as regards the island of the Gulf of Naples the landing point is Ischia Porto, near the main places of interest of the island .
THE POSITANO – ISCHIA ROUTE AND THE DEPARTURE AND ARRIVAL PORTS
Positano is one of the most famous resorts on the Amalfi Coast and it has fascinated, over time, important personalities from all over the world. John Steinbeck, one of the most important American writers and Nobel Prize in Literature in 1962, dedicated verses to the city of Positano, emphasizing how it is a dream place.
Also Ischia, on the other hand, has been the destination of several poets who have praised its beauty, such as Elsa Morante and Eugenio Montale. Once you arrive in Ischia Porto with our fast hydrofoils, in just 10 minutes on foot you can get to Via Roma, a shopping hub and one of the streets where you can walk in the evening to enjoy the evening atmosphere of Ischia.
In just 1 km of distance, it stands the sumptuous Aragonese Castle, open to the public.
FAST MOVEMENTS IN TOTAL RELAXATION WITH ALICOST
Moving from Positano to Ischia using Alicost's maritime connections means traveling in total comfort and relaxation. During the transport by sea several services are included: a bar, also used as a refreshment point, to have a drink or enjoy a coffee, screens where you can watch different digital channels for free and a fast Wi-Fi connection that, for everything the trip, you can use to chat, watch movies or take care of the last business.
Furthermore, people with reduced mobility can get on without problems and will be assisted by our crew.
BUY THE TICKET ONLINE  FOR THE POSITANO – ISCHIA ROUTE
You can also take advantage of our fast hydrofoils by booking online directly from our site. In a few minutes, after making the payment, the ticket for check-in before boarding will be sent by email.
Transactions take place in total security and speed thanks to our booking system. Or you can buy tickets by telephone by contacting our call center.
Finally, there are discounted rates for children: from 0 to 3 years they can board for free while from 3 to 12 they will pay the reduced ticket.
Buy your ticket online now and get on board of our hydrofoils!