| Departures | Time | Price |
| --- | --- | --- |
| Positano > Capri | 9:00 - 10:00 | € 17,50* |
| Capri > Positano | 16:25 - 17:30 | € 17,50 |
* + € 2,50 Capri Tax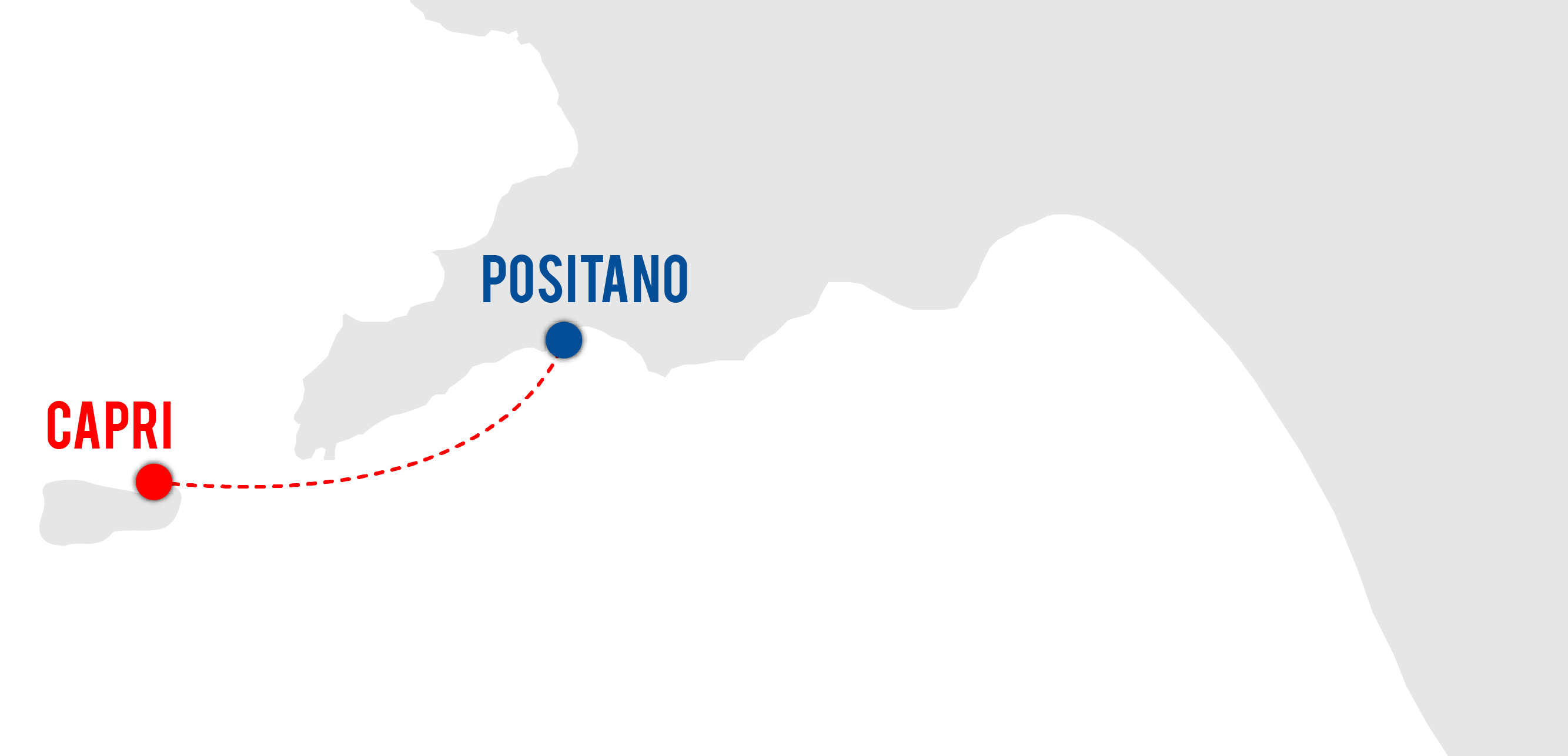 Among our connections by sea, the hydrofoil from Positano to Capri is also provided, with round-trip routes.
THE DEPARTURE PORT AND ARRIVAL ON THE POSITANO – CAPRI ROUTE
From the port of Positano in half an hour you arrive at the port of Marina Grande on the island of Capri. Two historic, extraordinary places. Positano was a holiday destination already several centuries ago, during the Roman Empire: as a testimony, there are traces of ancient artifacts found several years ago.
The town, one of the most popular destinations on the Amalfi Coast, has two beaches within walking distance and three by sea: the presence of different churches and a museum inaugurated in 2018, make it a place appreciated also from the artistic point of view, so like Capri.
On the island of the Gulf of Naples, traces of an urban settlement dating back to the Stone Age have been found and it is possible to admire true spectacles of nature, such as the Faraglioni, which from the gardens of Augustus offer spectacular views, and the Blue Grotto , once used as a sacred space in which there were fountains.
THE SERVICES ON BOARD OF THE HYDROFOILS ALICOST
Tranquility, comfort, relaxation: these are the three main factors for choosing our transport by sea. The fast hydrofoils from Positano to Capri, both outward and return, offer different services for all passengers.
Inside the boat there is a bar to enjoy a drink, take a snack or exchange a few words with the other guests to spend the 30 minutes of travel in harmony.
Furthermore, our entire fleet is equipped with a Wi-Fi connection available for the duration of the trip, with no connection loss, barring unforeseen circumstances. Our services also include assistance for people with reduced mobility, who can safely board our fast hydrofoils and receive the assistance required.
BUY YOUR TICKET FOR POSITANO – CAPRI ONLINE
To avoid arriving at the port risking long lines, it is possible to buy the ticket directly from our site with very few operations and in maximum security. We also offer the possibility to buy tickets by telephone by contacting our call center.
On board of our hydrofoils we also host pets that you can report when purchasing tickets.
Lastly, we have provided discounts for babies and children: all children in the age range from 0 to 3 years can take advantage of a free ticket, while from 3 to 12 years it is possible to take advantage of the reduced price.
Book the hydrofoil now and don't miss the beauty of Capri and Positano!