SEA CONNECTIONS IN FORCE FROM 23 JUNE
Wednesday and Friday
| Route | Departure | Arrival |
| --- | --- | --- |
| Salerno > Stromboli | 14:00 | 18:10 |
| Salerno > Panarea | 14:00 | 18:45 |
| Salerno > Salina | 14:00 | 19:15 |
| Salerno > Vulcano | 14:00 | 19:40 |
| Salerno > Lipari | 14:00 | 20:00 |
Monday and Thursday
| Route | Departure | Arrival |
| --- | --- | --- |
| Salina > Salerno | 9:00 | 15:00 |
| Lipari > Salerno | 9:20 | 15:00 |
| Vulcano > Salerno | 9:35 | 15:00 |
| Panarea > Salerno | 10:20 | 15:00 |
| Stromboli > Salerno | 10:55 | 15:00 |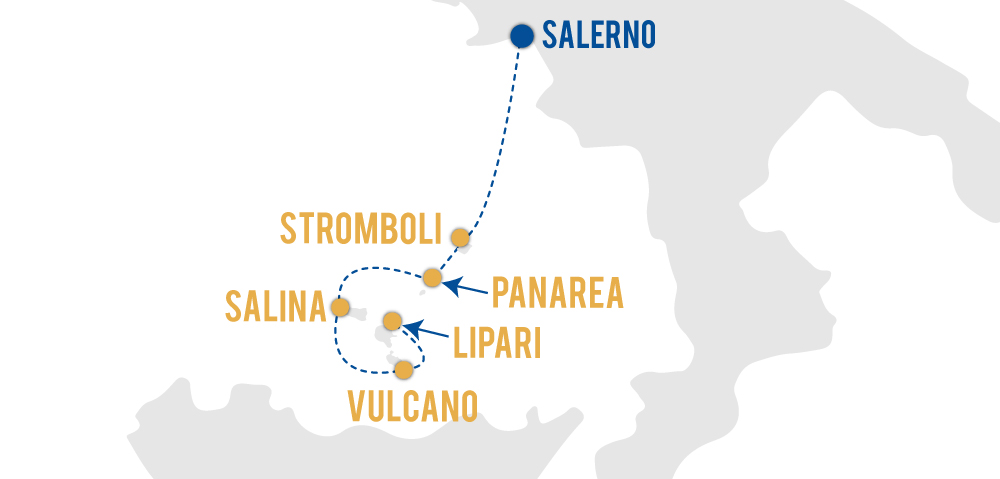 The Alicost sea connections also include hydrofoils that go to the Aeolian Islands. Our sea transports, in fact, run from Salerno to Stromboli, Panarea, Salina, Vulcano and Lipari reaching 5 of the 7 islands that include the Sicilian archipelago, in the province of Messina.
IN THE HYDROFOIL TOWARDS THE AEOLIAN ISLANDS: ALL DEPARTURES
The Aeolian Islands are all different in their own way and all special, making the experiences of the tourists unique, such as immersing themselves in unspoiled nature.
A visit to the Aeolian Islands is ideal for those who want to live unforgettable moments amidst breathtaking landscapes, crystal clear water and unspoiled nature.
For history buffs, however, thanks to the volcanic nature of these territories, it has been possible to recover ancient finds, memories of civilization even before the Greek and Roman.
Traces of ancient settlement were also found in Salerno, dated to the 6th century BC. In the second city of Campania, you can also visit the Medieval Aqueduct, on which looms a curious legend: thanks to demons, probably called by the magician Pietro Barliario, it was built in just one night so as to be nicknamed 'The bridge of the devil'.
Then, a stop in the "minor basilica" of Salerno is mandatory: the Duomo, built near 1100 after Christ, which is located in the historic center in the street of the same name.
THE SERVICES ON BOARD OF ALICOST
Alicost's fast hydrofoils give the chance to have a trip full of comfort.
On board, in fact, there are: screens tuned to the main channels, the coffee shop to order a coffee or take a snack, the Wi-Fi connection, available for the duration of the journey for all passengers who need to connect to the internet, even simply to watch videos or conclude the last working urgencies.
In addition, our hydrofoils enjoy easy boarding for passengers with reduced mobility, who will receive assistance from the crew.
BUY THE TICKETS ONLINE FOR THE AEOLIAN ISLANDS
Long queues can be avoided by purchasing the ticket online directly on our website. Buying the ticket this way is possible in a safe way. All major international credit cards are accepted.
Alicost provides facilities for the little ones. Children under the age of three can take advantage of a free boarding, while from 3 to 12 years they will pay a reduced cost. Finally, even the animals are allowed in our hydrofoils: simply indicate their presence during the booking.
What are you waiting for? Book your trip on Alicost hydrofoils online!