| Departures | Time | Price |
| --- | --- | --- |
| Salerno (M. Manfredi) > Ischia | 7:50 | € 26,90 |
| Ischia > Salerno (M. Manfredi) | 16:20 | € 26,90 |
| Amalfi > Ischia | 8:25 | € 26,40 |
| Ischia > Amalfi | 16:20 | € 26,40 |
| Positano > Ischia | 9:00 | € 25,40 |
| Ischia > Positano | 16:20 | € 25,40 |
| Capri > Ischia | 9:40 | € 19,60 |
| Ischia > Capri | 16:20 | € 19,60* |
* + € 2,50 Capri Tax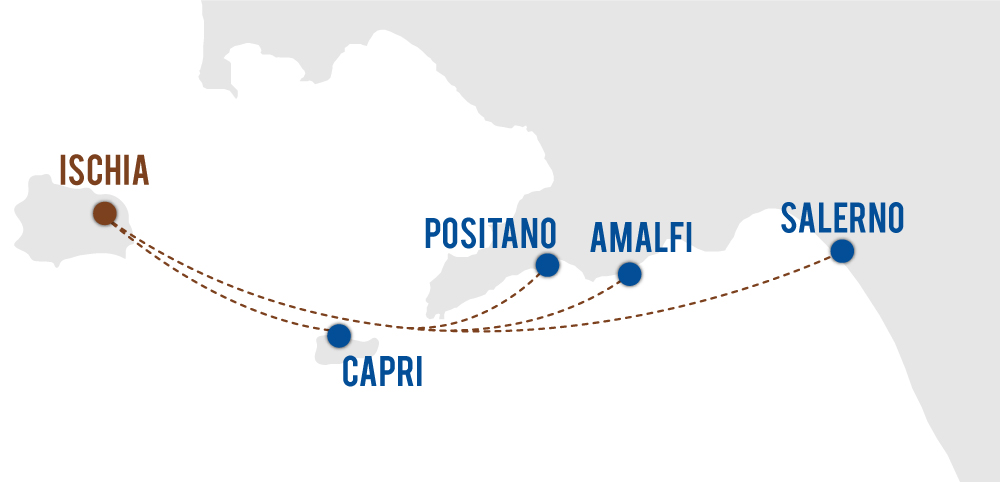 The hydrofoils to Ischia bearing the Alicost depart from the port from the Molo Manfredi of Salerno, from the Molo Cassone of Amalfi, from the Tourist Port of Positano and from the Marina Grande Port of Capri.
Hydrofoils to Ischia: why choose Alicost
The transport by sea of ​​Alicost is safe and guarantees maximum tranquility. The short journey to Ischia and the many services offered make the journey comfortable and suitable for all types of travelers. Inside the hydrofoils there is a refreshment service, to enjoy breakfast or a quick snack before reaching the destination. , you can connect to the Wi-Fi available for the duration of the journey regardless of destination. Finally, you can board for all people with reduced mobility, with qualified staff who is able to provide adequate assistance.
Fast movements with hydrofoils for Ischia
History, tradition, cuisine, sea, nature, landscapes: the island, inhabited since the Neolithic times in the Stone Age, offers everything a traveler could wish for and, with our maritime connections, we arrive directly at Ischia Porto, a short walk from the city center. Already on arrival, it is very easy to come across accommodation facilities ready to welcome tourists, historic shops he, restaurants, wonderful beaches. Only 10 minutes from the docking point is the very central Via Roma, which, in some places, is closed to cars to allow people to walk in peace for what is considered the shopping street of Ischia. A little over a kilometer, instead, stands the Aragonese Castle, dated 5th century BC.
Booking and purchasing tickets online: hydrofoils to Ischia
Alicost also offers the opportunity to avoid long lines, especially during high season. It is possible, in fact, to book online directly from the site in just a few minutes and have the security of the place. All security protocols are respected: any transaction is protected and credit cards of the major national and international circuits are accepted. During the online purchase process of tickets valid for check-in, the user's privacy is respected and for no reason the data entered is saved and stored by the company. Animals are also welcome in the hydrofoils: simply inform us at the moment of the reservation and we will take care of them in the best way. There are special rates for the 3 to 12 year age range, while children from 0 to 2 years of age have free access and will be able to enjoy the trip to Ischia at no cost. that choose the nearest port and book your ticket for the Alicost hydrofoil trip!