THREE DIFFERENT ROUTES TO GET TO AND FROM CILENTO, STARTING FROM THE 1st July to 31st August 2020
CONNECTIONS FROM SALERNO TO AGROPOLIS, SAN MARCO, ACCIAROLI, CASALVELINO, PISCIOTTA, PALINURO AND CAMEROTA, SATURDAY AND SUNDAY.
FROM SAN MARCO, FROM MONDAY TO FRIDAY, YOU CAN REACH AMALFI AND POSITANO.
CONNECTIONS ALSO FROM CILENTO FOR CAPRI AND NAPLES.
Check the timetables and rates for Cilento Coast and book online
Linea 1: Salerno > Cilento Coast
Frequency: Saturday and Sunday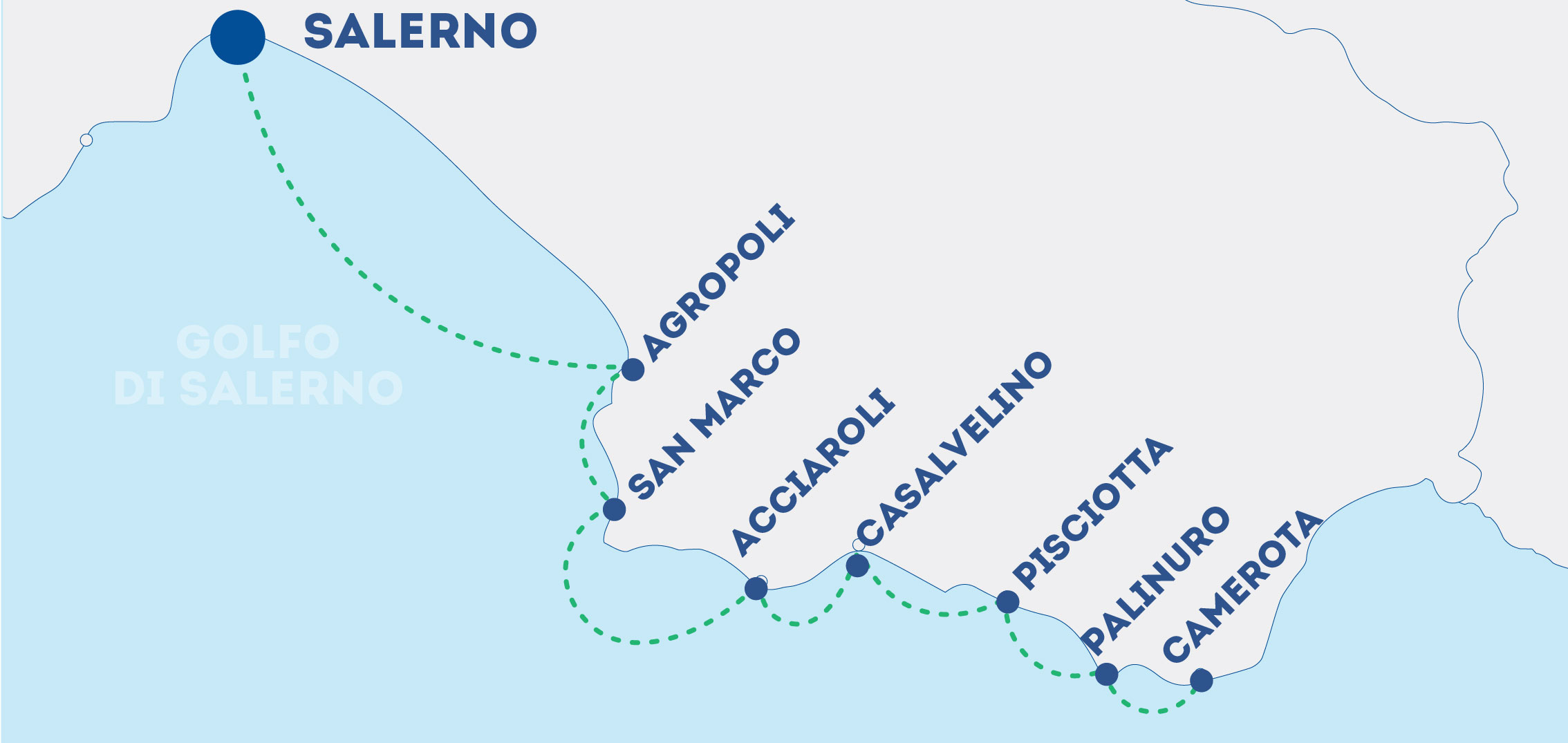 | Partenze / Departures | |
| --- | --- |
| Salerno | 8:00 |
| Agropoli | 9:00 |
| San Marco Castellabate | 9:25 |
| Acciaroli | 10:00 |
| Casalvelino | 10:25 |
| Pisciotta | 10:55 |
| Palinuro | 11:25 |
| Camerota | 11:45 |
| Partenze / Departures | |
| --- | --- |
| Camerota | 16:30 |
| Palinuro | 17:00 |
| Pisciotta | 17:20 |
| Casalvelino | 17:50 |
| Acciaroli | 18:15 |
| San Marco Castellabate | 18:50 |
| Agropoli | 19:25 |
| Salerno | 20:15 |
Linea 2: Cilento Coast > Amalfi Coast
Frequency: from Monday to Friday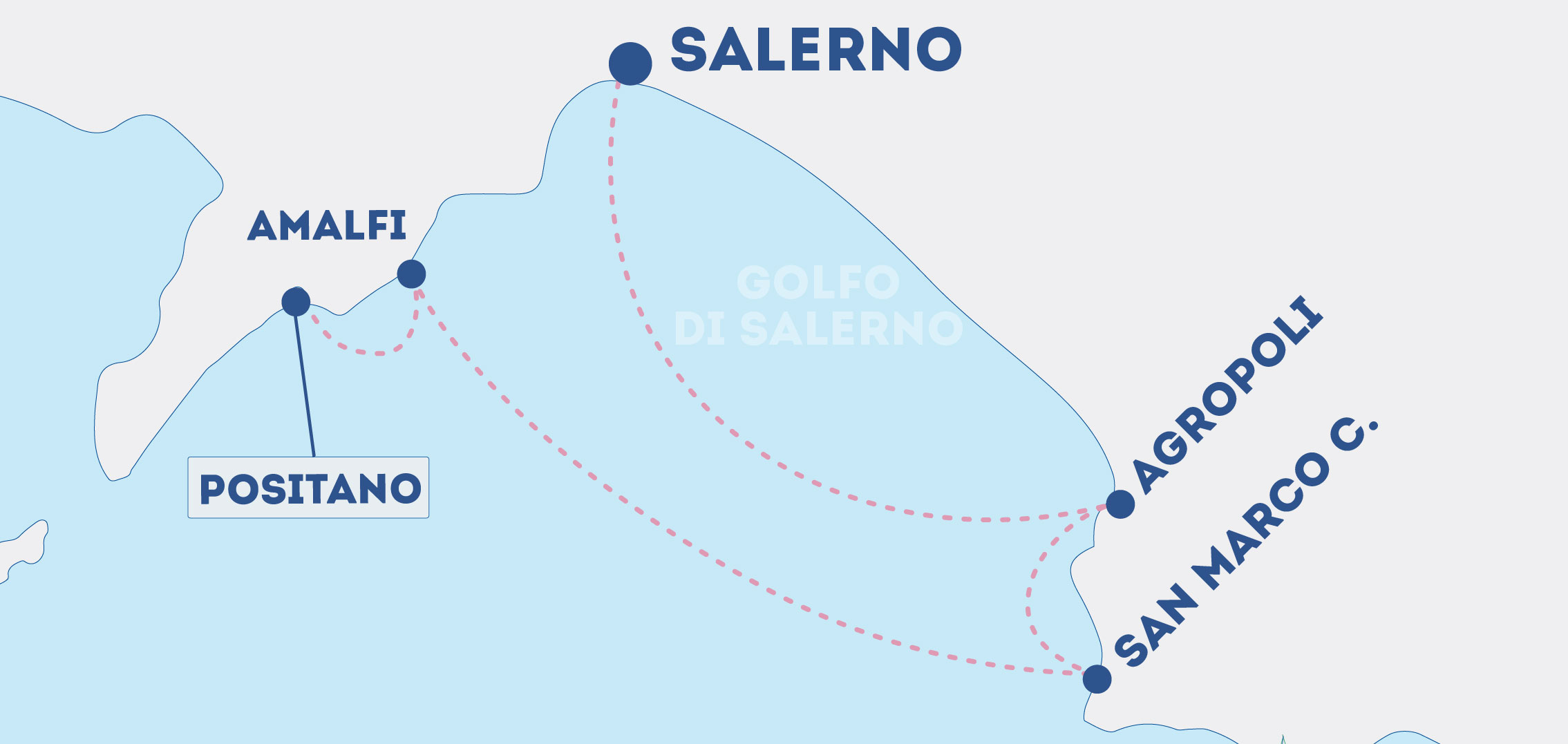 | Partenze / Departures | |
| --- | --- |
| Salerno | 8:00 |
| Agropoli | 9:00 |
| San Marco Castellabate | 9:25 |
| Amalfi | 10:35 |
| Positano | 11:00 |
| Partenze / Departures | |
| --- | --- |
| Positano | 17:20 |
| Amalfi | 17:50 |
| San Marco Castellabate | 19:05 |
| Agropoli | 19:40 |
| Salerno | 20:40 |
Linea 3A: Cilento > Capri > Napoli
Frequency: Tuesday, Wednesday, Thursday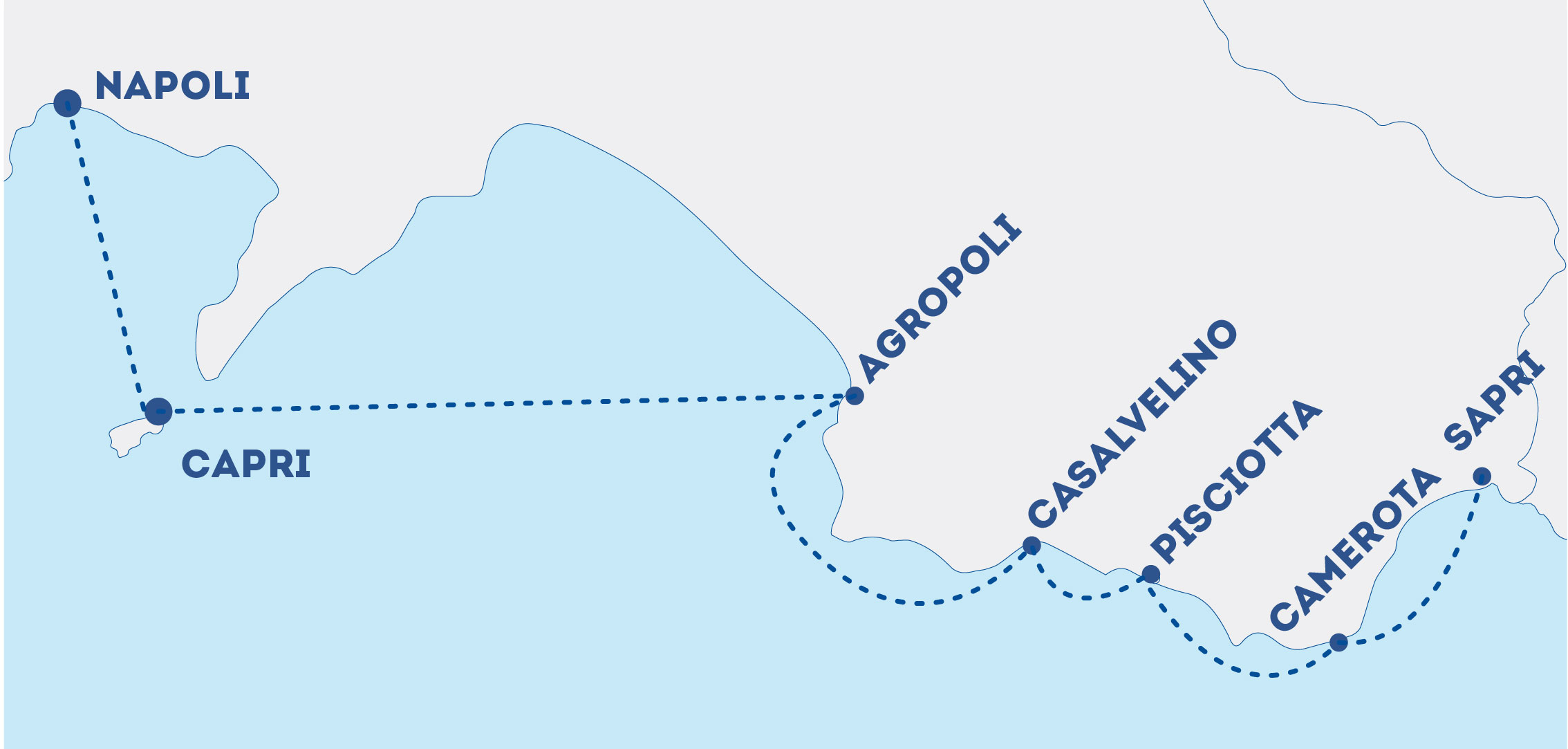 | Partenze / Departures | |
| --- | --- |
| Sapri | 7:00 |
| Camerota | 7:40 |
| Pisciotta* | 8:20 |
| Casalvelino | 8:40 |
| San Marco C.** | 9:10 |
| Agropoli | 9:50 |
| Capri | 11:15 |
| Napoli | 12:00 |
* solo Mercoledì / Only Wednesday
** solo Martedì e Giovedì / only Tuesday and Thursday
| Partenze / Departures | |
| --- | --- |
| Napoli | 15:30 |
| Capri | 16:15 |
| Agropoli | 18:10 |
| San Marco C.** | 18:50 |
| Casalvelino | 19:10 |
| Pisciotta* | 19:30 |
| Camerota | 20:10 |
| Sapri | 20:45 |
Linea 3B: Cilento > Capri > Napoli
Frequency: Monday and Friday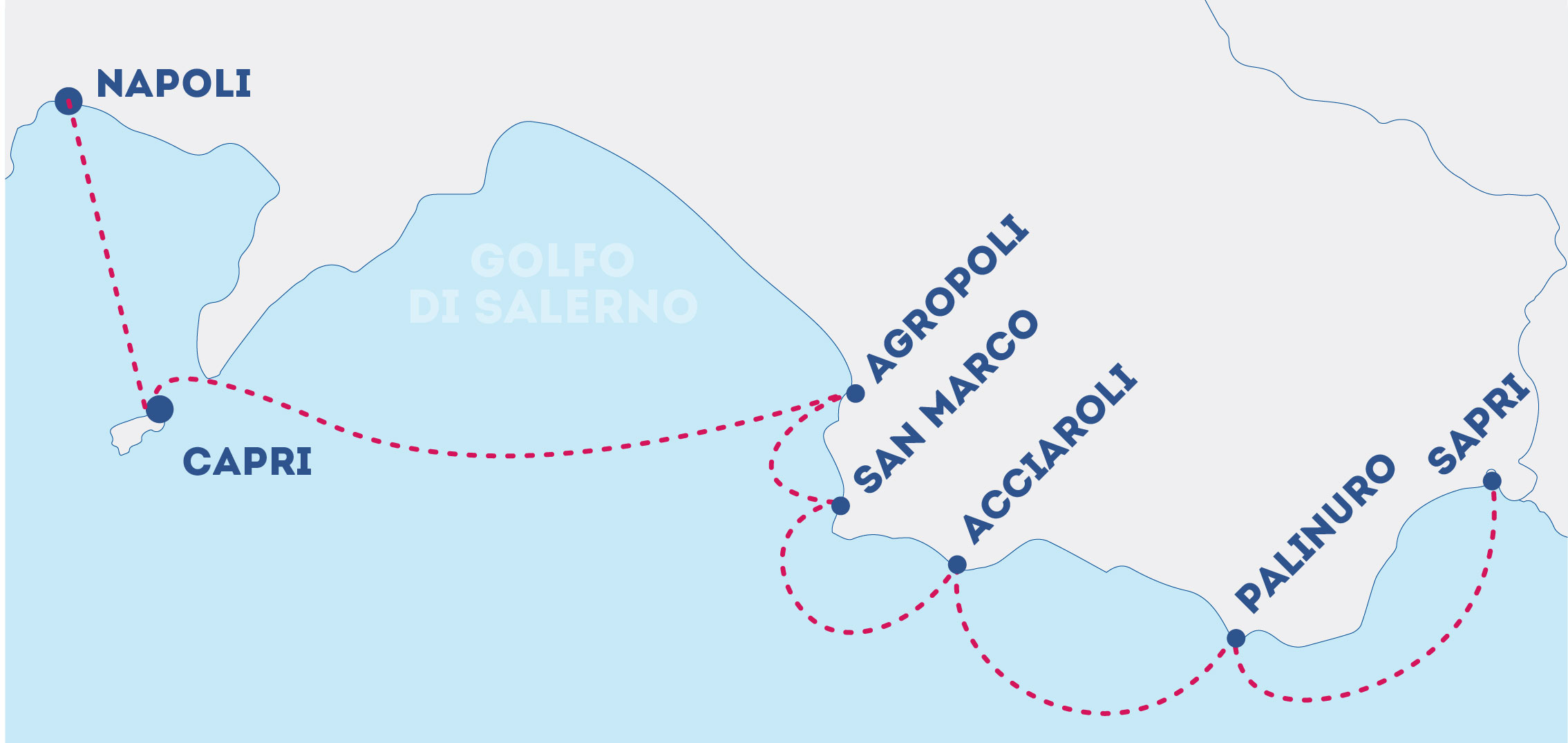 | Partenze / Departures | |
| --- | --- |
| Sapri | 7:00 |
| Palinuro | 7:55 |
| Acciaroli | 8:45 |
| San Marco C. | 9:10 |
| Agropoli | 9:35 |
| Capri | 11:15 |
| Napoli | 12:00 |
| Partenze / Departures | |
| --- | --- |
| Napoli | 16:00 |
| Capri | 16:50 |
| Agropoli | 18:20 |
| San Marco C. | 19:00 |
| Acciaroli | 19:25 |
| Palinuro | 20:15 |
| Sapri | 21:00 |
| TRATTA > ROUTE | PREZZO / PRICE |
| --- | --- |
| ACCIAROLI - AGROPOLI | €4,60 |
| ACCIAROLI - SALERNO | €7,60 |
| ACCIAROLI - SAN MARCO C. | €4,60 |
| | |
| AGROPOLI - SALERNO | €6,10 |
| | |
| CASALVELINO - ACCIAROLI | €3,50 |
| CASALVELINO - AGROPOLI | €4,60 |
| CASALVELINO - SALERNO | €7,60 |
| CASALVELINO - SAN MARCO C. | €4,60 |
| | |
| CAMEROTA - ACCIAROLI | €4,60 |
| CAMEROTA - AGROPOLI | €4,60 |
| CAMEROTA - CASALVELINO | €3,50 |
| CAMEROTA - PALINURO | €3,50 |
| CAMEROTA - PISCIOTTA | €3,50 |
| CAMEROTA - SALERNO | €12,10 |
| CAMEROTA - SAN MARCO C. | €4,60 |
| CAMEROTA - SAPRI | €3,50 |
| | |
| PALINURO - ACCIAROLI | €4,60 |
| PALINURO - AGROPOLI | €8,60 |
| PALINURO - CASALVELINO | €3,50 |
| PALINURO - PISCIOTTA | €3,50 |
| PALINURO - SALERNO | €11,10 |
| PALINURO - SAN MARCO C. | €6,10 |
| | |
| PISCIOTTA - ACCIAROLI | €3,50 |
| PISCIOTTA - AGROPOLI | €4,60 |
| PISCIOTTA - CASALVELINO | €3,50 |
| PISCIOTTA - SALERNO | €7,60 |
| PISCIOTTA - SAN MARCO C. | €3,50 |
| PISCIOTTA - SAPRI | €6,10 |
| | |
| SAN MARCO C. - AGROPOLI | €4,60 |
| SAN MARCO C. - SALERNO | €6,10 |
| | |
Cilento > Costiera Amalfitana
| TRATTA /ROUTE | PREZZO / PRICE |
| --- | --- |
| AGROPOLI - SALERNO | €6,10 |
| | |
| AMALFI - AGROPOLI | €9,10 |
| AMALFI - SAN MARCO C. | €9,10 |
| AMALFI - SALERNO | €9,10 |
| | |
| POSITANO - AGROPOLI | €11,10 |
| POSITANO - AMALFI | €9,10 |
| POSITANO - SALERNO | €11,10 |
| POSITANO - SAN MARCO C. | €11,10 |
| | |
| SAN MARCO C. - AGROPOLI | €4,60 |
| SAN MARCO C. - SALERNO | €6,10 |
| TRATTA / ROUTE | PREZZO / PRICE |
| --- | --- |
| NAPOLI - AGROPOLI | €16,20 |
| NAPOLI - CASALVELINO | €16,20 |
| NAPOLI - PISCIOTTA | €16,20 |
| NAPOLI - CAMEROTA | €16,20 |
| NAPOLI - SAPRI | €17,70 |
| | |
| CAPRI - AGROPOLI | €15,20 |
| CAPRI - CASALVELINO | €15,20 |
| CAPRI - PISCIOTTA | €15,20 |
| CAPRI - CAMEROTA | €15,20 |
| CAPRI - SAPRI | €17,20 |
| | |
| AGROPOLI - CASALVELINO | €3,50 |
| AGROPOLI - PISCIOTTA | €4,60 |
| AGROPOLI - CAMEROTA | €4,60 |
| AGROPOLI - SAPRI | €8,60 |
| | |
| CASALVELINO - PISCIOTTA | €3,50 |
| CASALVELINO - CAMEROTA | €3,50 |
| CASALVELINO - SAPRI | €8,60 |