| Departures | Time | Prices |
| --- | --- | --- |
| Salerno (M. Manfredi) > Capri | 7:50 - 8:40 | € 20,00* |
| Capri > Salerno (M. Manfredi) | 16:25 - 17:30 | € 20,00 |
| Maiori > Capri | 8:55 | € 17,50* |
| Capri > Maiori | 16:25 | € 17,50 |
| Minori > Capri | 9:10 | € 17,50* |
| Capri > Minori | 16:25 | € 17,50 |
| Amalfi > Capri | 8:25 - 9:30 | € 17,50* |
| Capri > Amalfi | 16:25 - 17:30 | € 17,50 |
| Positano > Capri | 9:00 - 10:00 | € 17,50* |
| Capri > Positano | 16:25 - 17:30 | € 17,50 |
| | | |
* + € 2,50 Capri Tax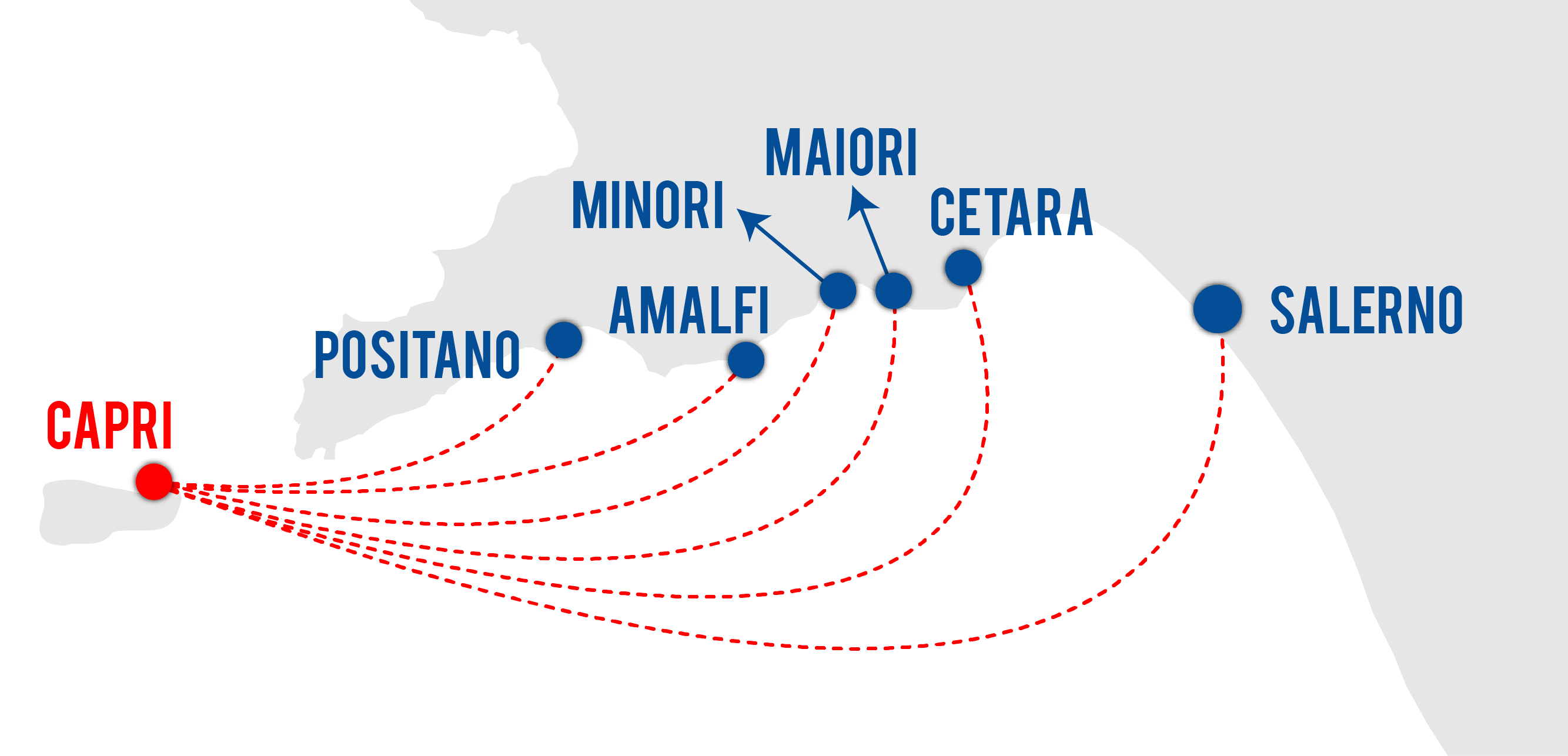 With Alicost's sea connections, you can reach and visit one of the most famous islands in the world, by booking one of our hydrofoils to Capri from Salerno and the Amalfi Coast.
IN THE FERRY TOWARDS CAPRI: THE STARTING PORTS
The route includes departures respectively from the Molo Manfredi of Salerno, the ports of Maiori, Minori, and Cetara, the Molo Cassone of Amalfi, and from the port of Positano.
The arrival is instead scheduled at the Port of Marina Grande.
The Marina Grande Port of Capri is located in the center of the island and in just 4 minutes in the cable-car you can reach the famous Piazzetta, from which you can admire a panoramic view that leaves you breathless.
Nearby, there is no shortage of buses and taxis to reach various points of destination, such as hotels, restaurants, bars and shops for shopping.
TRANSPORT BY SEA WITH ALICOST IS A GUARANTEE AND EFFICIENCY.
The hydrofoils to Capri are available every day, including bank holidays, and allow you to reach the island quickly.
The comfort of the journey is guaranteed, almost not to feel the need to rest before starting the various stages of the journey!
For an extremely satisfying journey, the hydrofoils provide various services on board: the bar for sipping coffee or taking a snack, the screens for watching the main national television channels; Wi-Fi for the duration of the trip for those who need to connect to the internet, the possibility of boarding for all people with reduced mobility all so that anyone can really enjoy the beauty that the island of Capri offers.
All the connections to Capri from Salerno, Cetara, Maiori, Minori, Amalfi and Positano, leave in crucial points, practically in the center of the cities.
In addition, the Manfredi Pier of Salerno was awarded in 2010 in Lisbon as the best European port for goods and people handling in proportion to the available space.
HYDROFOILS TO CAPRI : ONLINE BOOKING AT THE BEST PRICE
You can avoid the lines and book directly online.
All transactions are protected and can be securely booked using a credit card on all popular circuits.
With just a few clicks, you can quickly proceed to the online purchase of tickets valid for boarding, to be presented at check-in.
On our hydrofoils, animals are allowed: simply tell us at the time of purchase.
In addition, various facilities are provided. Children up to 2 years old travel for free while for the age group between 3 and 12 there is a reduced rate.
Now don't wait any longer, choose the most comfortable port for you and book the Alicost hydrofoil for Capri online!