| Departures | Time | Price |
| --- | --- | --- |
| Maiori > Capri | 8:55 | € 17,50* |
| Capri > Maiori | 16:25 | € 17,50 |
| | | |
* + € 2,50 Capri Tax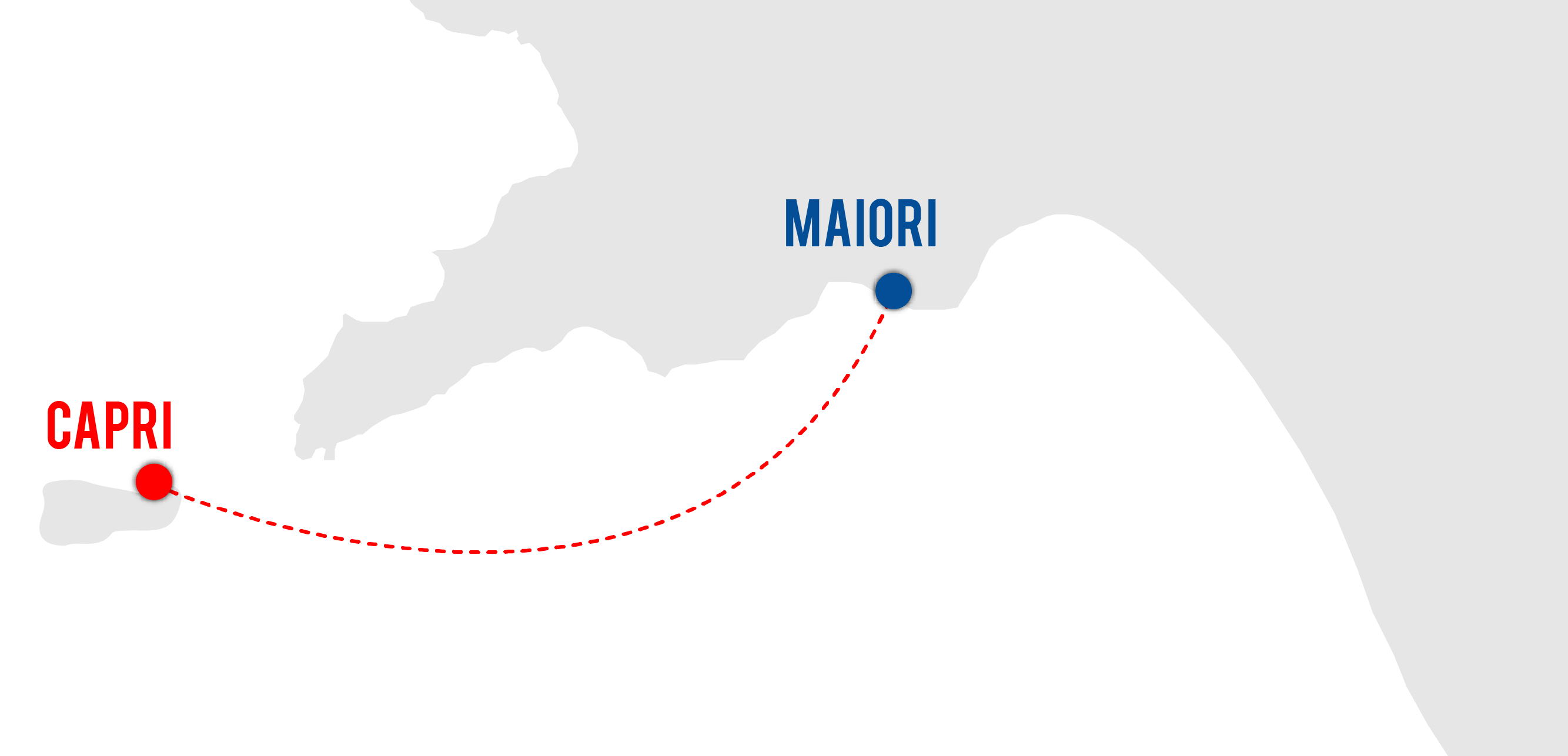 Our hydrofoil from Maiori to Capri allows you to travel from one of the cities on the Amalfi Coast to one of the most fascinating islands of the Gulf of Naples.
THE PORTS OF THE MAIORI – CAPRI  ROUTE
The landing point in Capri is the port of Marina Grande while in Maiori the embarkation is between Punta Salicerchio and Punta dello Scarpariello, about 1km from Palazzo Mezzacapo, former residence of the homonymous marquis.
In Maiori, a town famous for the 'Lemon path', you can visit the Castle of Saint Nicolas de Thoro-Plano, a monument from the 9th century that overlooks the city from above, in addition to the numerous churches that were built during the years.
As in Maiori, even in Capri our hydrofoils arrive near the city center because, using the historic funicular, the port of Marina Grande is only 5 minutes from the Piazzetta.
Set of many films and TV series, the Piazzetta is the symbolic place of the island, where it is possible to stop and be enchanted by the landscape in front of it. Capri is known all over the world also for the Faraglioni, three real giants of rock high over 50 meters.
TRAVEL IN CONVENIENCE WITH ALISCAFI ALICOST
Alicost's maritime connections allow our guests to travel in maximum comfort and in absolute relaxation. Our hydrofoils are equipped with wi-fi connections and an internal bar service so you can refresh yourself with a drink, a coffee or a snack.
Our fast hydrofoils have been designed to best accommodate people with reduced mobility, who are welcome and will be continuously assisted by the crew.
HYDROFOILS  FROM MAIORI TO CAPRI: BUY THE TICKET ONLINE
The hydrofoils from Maiori to Capri can be booked online on our website in a very short time. The credit cards of the major international circuits are accepted and, once the tickets have been purchased online, the ticket to be presented at check-in will be sent by email to be then presented at the time of boarding.
During the booking process, you can report the presence of animals, which are welcome on our hydrofoils. For children from 0 to 3 years the ticket is free while those from 3 to 12 years enjoy a preferential tariff. In this way, everyone can really visit two authentic pearls of Campania.
Don't hesitate and book your ticket online!