| Departures | Time | Price |
| --- | --- | --- |
| Capri > Ischia | 9:40 | € 19,60 |
| Ischia > Capri | 16:20 | € 19,60* |
* + € 2,50 Capri Tax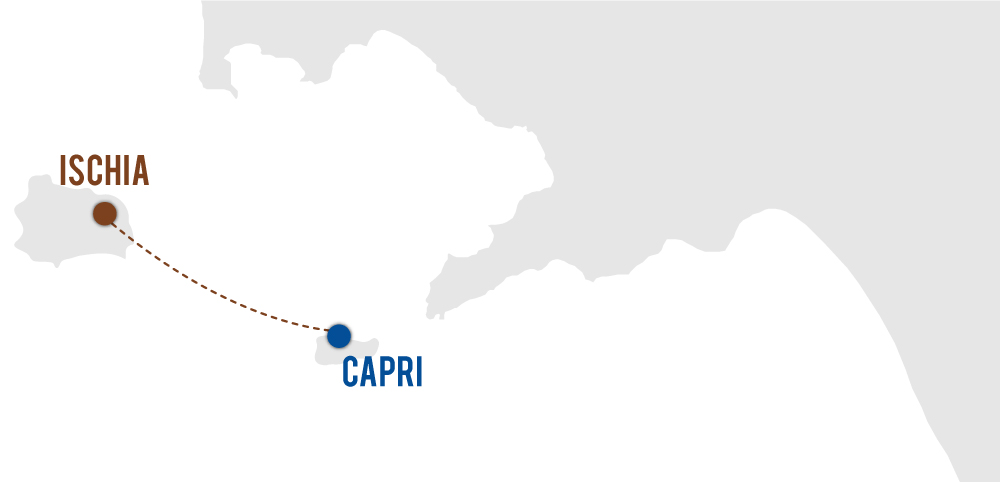 Sea connections between the two main islands of the Gulf of Naples: with Alicost you can book the hydrofoil from Capri to Ischia also in round-trip mode. Discover our convenient rates to move quickly between two authentic beauties.
THE QUICK ROUTE CAPRI – ISCHIA AND THE PORTS
As for the Faraglioni island, the ship leaves from the port of Marina Grande, five minutes from the Piazzetta, while the island of Ischia is the landing point in Ischia Porto, in the center of the city.
The journey between Capri and Ischia with our fast hydrofoils lasts about 1 hour and allows travelers to enjoy two authentic wonders.
Capri offers landscapes that leave you breathless: in addition to the Faraglioni, a visit to the Blue Grotto is a must, an irreplaceable destination for those visiting the island. With the historic funicular, from the port of Marina Grande you can reach Piazza Umberto I in a few minutes, the famous Piazzetta where they shot an endless series of films and TV series and which offers a breathtaking view and panorama.
Ischia, instead, with its 60 thousand inhabitants, is the most populous after Sicily and Sardinia. Called by the Latins the island of potters, it is rich in thermal gardens where even the ancient Romans loved to spend time, away from everyday stress. It is also impossible not to visit the Aragonese Castle, with several centuries of life behind it and inside which there are several historical artifacts that tell the island how it used to be.
THE SERVICES ON BOARD OF ALICOST
Our consolidated experience of transport by sea has allowed us over time to offer our passengers all the most requested comforts. A bar with a coffee corner ready for guests, a fast Wi-Fi connection to define the last itineraries of the trip, and, finally, assistance for people with reduced mobility, who can regularly get on our hydrofoils.
HYDROFOILS FROM CAPRI TO ISCHIA: BOOKING ONLINE
Alicost also allows you to save valuable time: you can, in fact, book your ticket valid for check-in directly on our site and avoid long queues. Alternatively, we offer the possibility to purchase the ticket also by telephone by calling our call center.
You can also bring animals with you, indicating the number during the purchase phase. Children from 0 to 3 years old can embark for free in our hydrofoils from Capri to Ischia, while for children aged between 3 and 12 they can take advantage of reduced rates.
All you have to do is book and let yourself be enchanted by two of the most beautiful islands in Europe!