| Departures | Time | Price |
| --- | --- | --- |
| Amalfi > Ischia | 8:25 | € 26,40 |
| Ischia > Amalfi | 16:20 | € 26,40 |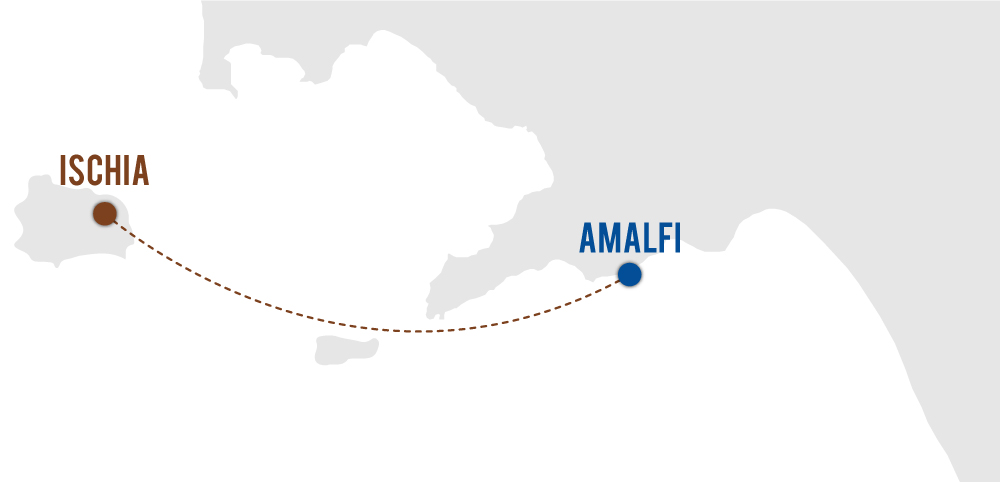 From the Amalfi Coast to the Gulf of Naples. With the hydrofoil from Amalfi to Ischia, with round-trip routes, you can visit one of the most beautiful cities in the province of Salerno and the largest island in Italy after Sicily and Sardinia.
THE PORTS OF THE AMALFI – ISCHIA ROUTE
In Amalfi the boarding is at the Molo Cassone while in Ischia the hydrofoil stops at Ischia Porto, a few hundred meters from the center. Amalfi is a place famous all over the world for the landscape, for the sea, for the art. In addition to the classic Mediterranean climate, one also encounters the Cathedral, the most famous monument of what was once one of the Maritime Republics, built in 987 after Christ.
The Cathedral 'Duomo'  is located in the central square, near which you can also admire the Sant'Andrea Fountain which, with its baroque style, fascinates tourists. Finally, a walk along the Cavalieri seafront is a must for those visiting Amalfi.
In Ischia, in addition to the famous Aragonese Castle, it is mandatory to go to the Bay of Sorgeto, where, after having encountered over 200 steps, one finds oneself in natural spas. The hot water that comes out of the subsoil crosses that of the sea and therefore creates a typical atmosphere of the spa.
WHY CHOOSE ALICOST'S QUICK MOVEMENTS
Our fast hydrofoils, flagships of Alicost's transport by sea, are equipped with all the comforts to make the travel experience truly unique. On board there is the Wi-fi, available from the time of boarding until arrival, intended for those who just can't do without connecting to the internet.
While those who prefer to sip a coffee can contact the internal bar. Finally, we are available to provide assistance to people with reduced mobility, to be welcomed at best.
BUY THE  TICKET ONLINE FOR THE ROUTE FROM AMALFI TO ISCHIA
With Alicost you can also avoid the queues to get your ticket: on the site, in a few minutes, you can make the online purchase of the pass which must then be changed at the ticket office with the ticket valid for boarding.
The online purchase is done with our booking system that allows you to buy the ticket with very few steps. Alternatively, tickets can also be purchased through our call center up to 2 hours before departure.
There are special promotions for the youngest: children from 0 to 3 years can take advantage of a free ticket while those in the 3-12 age group will receive a large discount.
Now it's your turn: book the fast hydrofoil online and visit two authentic pearls of the Mediterranean!