| Departures | Time | Price |
| --- | --- | --- |
| Amalfi > Capri | 8:25 - 9:30 | € 17,50* |
| Capri > Amalfi | 16:25 - 17:30 | € 17,50 |
* + € 2,50 Capri Tax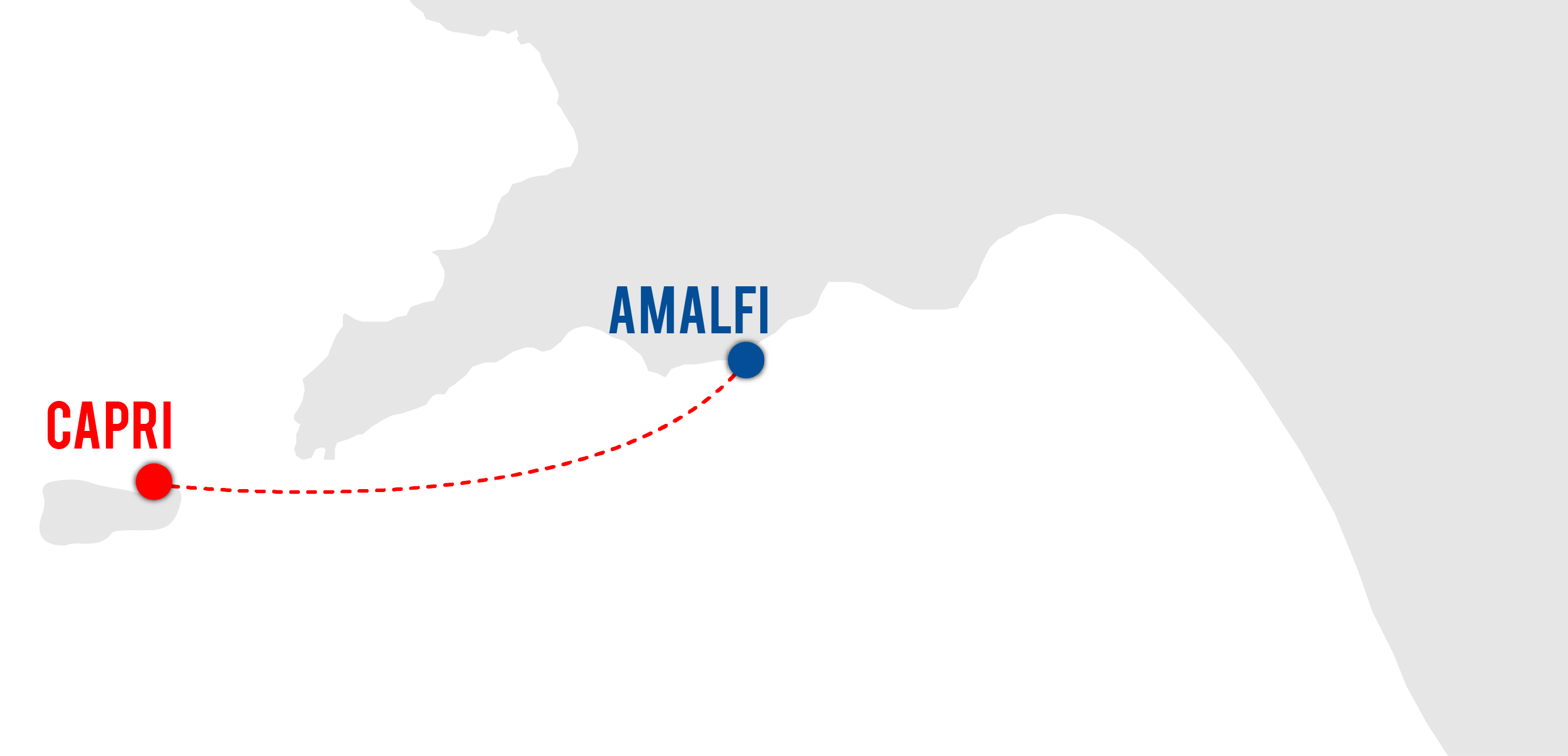 From one beauty to another. Alicost provides a connection by sea with the hydrofoil from Amalfi to Capri: the departure is from the port of Molo Cassone in Amalfi and the arrival point is the port of Marina Grande, on the island of the Faraglioni. Departure and arrival are in absolutely central areas.
THE AMALFI ROUTE – CAPRI AND THE PORTS
The port of Amalfi, in fact, is about 10 minutes walk from the Cathedral, also known as the 'Cathedral of Sant'Andrea': built in the tenth century AD, located exactly in the center of the city, destination of hundreds of thousands of tourists each year who want to get to know one of the most beautiful places on the coast.
The port of Marina Grande, on the other hand, is located in the northern part of the island of Capri and from there the funicular, a means of transport that today has become a real attraction. In less than 5 minutes, it takes passengers to Piazza Umberto I, better known by all as the "Piazzetta", the hub of Capri life, by day and by night.
FAST MOVEMENTS WITH THE HYDROFOILS OF ALICOST
Alicost's transport by sea includes avant-garde fleets that include fast and modern hydrofoils, equipped with numerous comforts and services available to passengers. With the bar service you can order your own coffee or choose a snack to brighten up the moments of the journey. For those who want to stay connected with the smartphone or PC, it is possible to connect to the fast Wi-Fi connection.
In the 60-minute hydrofoil journey from Amalfi to Capri you can also watch TV on our screens.
BUY THE ONLINE TICKET FOR THE ROUTE AMALFI – CAPRI
Booking on the Alicost website is a simple operation that saves time: the operation ends in a few seconds and the place on board is secured. In fact, shortly after completing the online purchase, the reservation will be sent by email which must be printed and delivered to the ticket office for check-in.
Animals can also travel on our hydrofoils: tickets can be purchased when booking online. Finally, there are large discounts for children aged 3 to 12 while boarding is free for the age group between 0 and 2 years.
Do not hesitate and book the hydrofoils from Amalfi that will take you to see the beauties of Capri.